Breath Test - Home

Under Texas law a person is legally intoxicated if their blood alcohol content (BAC) is 0.08 or higher. Breath testing is the most commonly utilized method for the police to determine your BAC. The police like it because it is the cheapest test to administer and requires the least amount of paperwork for the arresting officer. If you are arrested for DWI in Texas then you will most likely be asked to give a sample of your breath.

The government uses a machine called the Intoxilyzer 5000 to take breath samples. Members of the scientific community are divided over the accuracy and reliability of the Intoxilyer 5000.

If you were arrested for DWI and gave a sample of your breath, make sure you consult with an attorney who knows the Intoxilyzer 5000 and how to attack it's credibility.

Intoxilyzer 5000 Breath Machine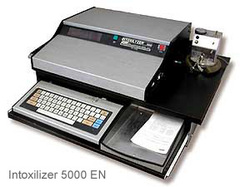 That ancient looking contraption to the left is the breath test machine used in Texas. This relic is often the government's "best evidence" against you if you were arrested for DWI.

As you might guess by looking at it, the Breath test machine uses Atari-age technology to measure the alcohol concentration of someone's breath.

Many lawyers don't understand how the machine works. Therefore, they are afraid to take a Breath Test DWI case to trial. Unfortunately, these lawyers will try to convince their client to take a plea deal. If you have been arrested for DWI make sure you consult an attorney who not only understands how the Intoxilyzer 5000 works, but also knows how to attack the accuracy of this machine. Certainly, in circumstances it is wise to negotiate a plea bargain. But just because someone blows over a 0.08 doesn't mean they are guilty. In fact, a DWI lawyer who knows the ins-and-outs of the Intoxilyzer 5000 can sometimes even get the State's expert witness to admit that the machine reading is inaccurate.